Chesscala
External image links detected!
You know what would look worse on your page than this big, ugly warning? Broken image links. If you're the author, please make sure that doesn't happen to this page by replacing the following external graphic images with local copies.
Array
(
    [0] => http://i789.photobucket.com/albums/yy172/FrancoisTremblay/Chessvariants/general3.jpg
)

Chesscala- a hybrid of Chess and Mancala
by
Francois Tremblay and David Mustoe
Overview
        Some beginner tips
Glossary
   * Board layout
   * Actions and control
   * Turns
   * Win conditions
Pieces
   The Bomb, the Hammer, the Man
Opening Setup
   * Standard setup
   * Other possible setups
How to play
   * Sowing move
        King movement rules, Pawn movement and promotion rules
   * Capturing move
Simple move combinations
Checks and win conditions
        Alternate "no draws" rule
Sample games





Overview

Chesscala is a hybrid of the two most popular abstract strategy games in the world, Chess and Mancala. The objective of Chesscala is to checkmate one or both of your opponent's Kings. In this regard, it is a Chess-like game. Captures are made as in Chess. Movement is as in Mancala, with fixed paths and a sowing mechanism, making it a Mancala-like game.

Chesscala is a very offensive-oriented game. Pawn chains are very difficult to create, and defending pieces is often dubious. Defense is usually either created by generating serious threats to the opponent, or by sowing against the opponent's attack. Seizing and keeping the momentum is of prime importance. Chesscala offers you a lot of options (for instance, there are 33 possible opening moves, and a 4-piece stack can be sowed in up to 24 different ways), but, as in Chess, careful selection of the options which keep momentum going for one's side while closing off potential threats is what makes the difference between victory and defeat.

Depending on skill level and opening setup, a game of Chesscala can take anywhere between one and two hours. Setting up a game of Chesscala requires three regular White and Black armies (two Kings on each side, from 12 to 15 Pawns, and generally four of each other piece, more if you make the new pieces from existing ones as I recommend), as well as some checkers (generally no more than one or two will be needed at a time, and they may safely be replaced by whatever else you may have on hand). We have also found it very helpful, for the first few games, to put little pieces of paper below each file with an arrow pointing in the direction of movement.

Chesscala is not an entirely simple game, but I hope you will try it and be rewarded by its depth and the different kinds of strategic thinking that it requires. Skill in Chess or Mancala is not required to play Chesscala well; although of course knowing Chess and Mancala is an advantage, the rules below explain everything in, I hope, sufficient clarity and simplicity to make it accessible to everyone who knows how Chess pieces move. If you have any further questions or comments, please post them on this page or send me an email at francoistremblay28 at gmail.com and I will answer them to the best of my ability.



Some beginner tips (we've had to learn these the hard way) : Forget about piece values from Chess, they are of little use in this game. Treat every piece as potentially sacrificable to gain or keep tempo; unless you are about to lose from attrition, positioning is far more important than material in this game. In fact, it seems that winning at Chesscala more or less requires you to hold the initiative for a long time. Do not attack in earnest unless you are reasonably certain that it will result in checkmate.

Be kind to each other; let the other player take back the moves he just played so they can try something else. This game can get hopelessly complex sometimes, and even after playing Chesscala for months we still do this once in a while. Position the bigger pieces towards yourself and the smaller pieces towards your opponent, so they can see what's on your squares more easily. A game of Chesscala is not a trivial endeavour, so shake hands after the game for a job well done. We hope these tips will help you along the way to mastering Chesscala (or at least get better than us) and make it more fun.



Glossary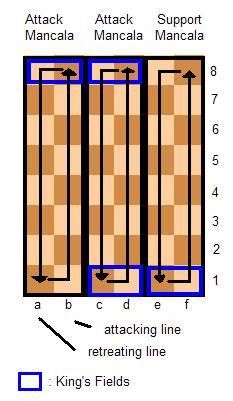 All labels are for White.

* Board layout
Mancala: A circuit upon which pieces travel (traditionally, these pieces are undifferentiated rocks or seeds; in Chesscala, they are chess pieces). In Chesscala, the a and b files, c and d files, and e and f files form three separate mancalas, and each mancala has an attacking line and a retreating line (their position being relative to the player).
Attack mancalas: The mancalas on which the opponent has a King (always the left and center mancalas relative to the player). As their name indicates, the attack mancalas are the mancalas where attacks are most likely to originate.
Support mancala: The mancala on which the opponent does not have a King (always the right mancala relative to the player). Strategically, as its name says, the support mancala mainly helps support attacks from the other two mancalas.
Attacking line: The file in a mancala upon which one advances (always the right side relative to the player).
Retreating line: The file in a mancala upon which one retreats (always the left side relative to the player).
King's field: The only two squares that a King may occupy. The King's fields for White are: c1 and d1 for the middle mancala King, e1 and f1 for the right mancala King.



* Actions and Control
Stack: All the pieces present on a given square. Up to four pieces can be in a stack; a stack with four pieces is considered full. White and black pieces can co-exist in the same stack.
Sowing: Laying down the pieces in a stack, one per square, in the direction of movement (attacking line: up, retreating line: down). If an extremity of the mancala is reached, then sowing continues counter-clockwise (from b8 to a8, from a1 to b1). The choice of which piece is laid down in what order is left to the player, and provides much of the complexity of Chesscala.
Attack: A series of sowings on an attacking line, usually with the intent to checkmate (said sowings need not be consecutive, although they are grouped in time).
Stack control: If one player has more pieces in a stack than his opponent, then he has control of that stack. If both have the same number of pieces in the stack, they both control it. Stack control determines who can sow it.
Square control: If a square has a stack, then whoever controls the stack also controls the square; in addition, an empty square is considered to be under both players' control.



* Turns
Turn: A turn in Chesscala is composed of two moves: (1) a capturing move (optional), then (2) a sowing move (mandatory). There are two exceptions: the Bomb may capture on the second move if it has been sowed on the first move, and a side under multiple checks may capture or sow on either move.
Capturing move: Any move which results in the capture of a piece.
Sowing move: Any move which consists solely of sowing a stack or moving one of one's Kings.



* Win conditions
Checkmate: As in Chess, this is achieved by threatening the King and making it impossible for the King to be freed from threats. The main difference in Chesscala is that each side has two Kings and two possible moves every turn, making possible things like dual checks (a check on each King), dual double checks, forked checks, forked dual double checks, etc.
Attrition: After losing a certain amount of material, it becomes extremely difficult to mount attacks. This usually happens when beginners waste their pieces in ineffective attacks and counter-attacks. This is why Chesscala games are stopped when one of the players loses 12 pieces.




---
By Francois Tremblay.
Web page created: 2011-04-14. Web page last updated: 2011-04-14